DOUG FORD IS DOING IT AGAIN.
IT'S TIME FOR PEOPLE TO RESIST, IGNORE, FIGHT.
BUZZ OFF, DOUG!
Yesterday, Doug Ford told the people of Ontario to knuckle under again. "Don't make any plans for Easter." That is so extremely outrageous, rude and flippant, Doug Ford should resign immediately. He is unfit to lead. He is also unfit to lead because he wants to lock down Ontario again despite the fact that the last three lockdowns have not reduced or stopped the spread of Covid-19.
The definition of insanity is doing the same thing over and over again and expecting a different result. So either Dough Ford is insane to want another lockdown or he doesn't expect this lockdown to work any more than the last three lockdowns. I have to assume Doug Ford just likes the power since there is no medical reason to lock down. They say that ICU's are maxed out because there are 420 people in ICU. But there are 4,000 ICU beds, so what they say is a lie. It is only bureaucratic ego and pique that sends 250 cops to arrest one guy. It's the "ll fix your little red wagon" response to those who resist, ignore, fight.
There is evidence around the world that lockdowns make no difference to the trajectory of Covid-19. The evidence includes Sweden versus the United Kingdom. Sweden has never locked down. The UK has. The Covid-19 trajectories in both countries are identical. In the US, North Dakota locked down. South Dakota did not. The Covid-19 trajectories in both states are identical. Florida ended lockdown in April 2020. California is still in lockdown. The chart below shows that Florida has done better than California. If lockdowns work so well, the results from all these examples would be totally different. But they are not.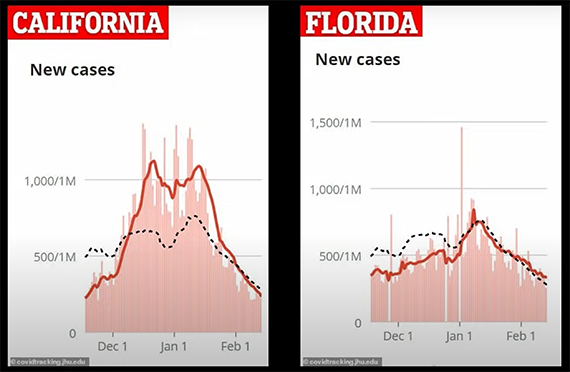 Hey Doug, if you don't want to go to your cottage, that's OK. Just let other people make their own decisions. We are supposed to have our Charter freedoms. You should stop abusing your position to impose your will on others and infringe on those freedoms. Buzz off!
Back >